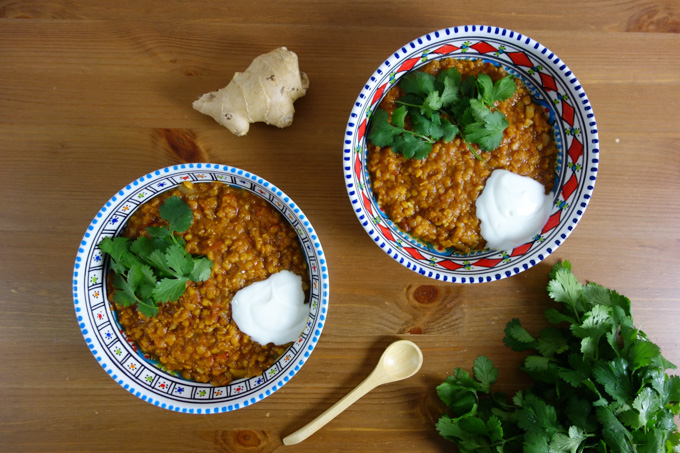 Only two days before I traveled to India for the first time, I spontaneously decided to cook a lentil dal in my slow cooker – as a getting-into-the-mood-meal. A dal is the perfect dish to sneak in a lot of good and healthy ingredients, such as ginger, garlic, turmeric, cumin, coriander and other spices that complement the taste and provide us with a bunch of great nutrients.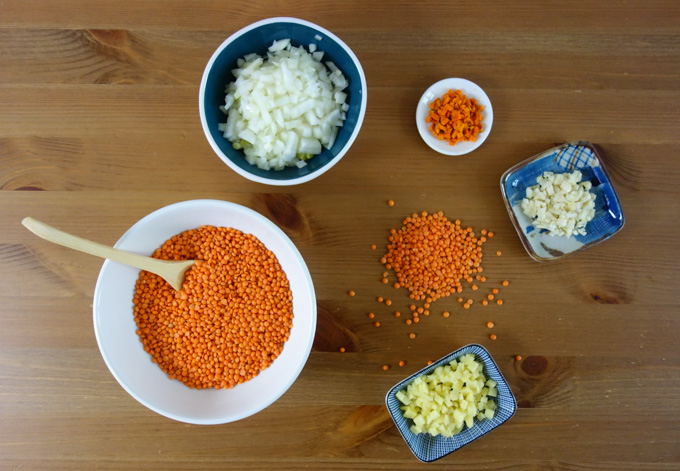 Ever since I drastically cut down my meat consumption during my travels through Southeast Asia, I have come to love cooking legumes even more. They are a wonderful protein source and deliver slow carbs, which is why they are a perfect food for your health, plus you will be enchanted by the rich and nutty flavor of lentils.
The secret ingredients in this dal are freshly grinded fennel seeds, mustard seeds and cloves – not so secret after all. The grinding process releases the fresh aromas of the seeds and adds an unmistakable taste to the dish.
Ingredients for up to four people:
250g red lentils
2 cans of diced tomatoes
1 onion
2 cloves of garlic
1 piece of ginger
1 piece of turmeric
1 tsp. cumin
1 tsp. cayenne pepper
1 tsp. freshly ground fennel seeds
1 tsp. freshly ground mustard seeds
2-3 freshly ground cloves
salt
pepper
water
plain yoghurt
a bunch of fresh coriander
Instructions:
Place the lentils in a sieve and rinse them under hot water.
Peel the onion, garlic, ginger and turmeric and cut them into small pieces. You can also use a grinder or garlic press but I prefer the pieces to be chunkier in the dal.
Grind the fennel seeds, the mustard seeds and the cloves in a mortar.
Place the lentils, tomatoes, all vegetables and all spices in a slow cooker and cook on MED-HIGH for about six hours. You will have to add water every now and then, so keep watching your dal every thirty minutes.
Add salt and pepper to your taste. The dal is ready when the lentils are soft and mushy.
Serve with plain yoghurt, fresh coriander, rice or Indian Naan bread for the authentic taste explosion. Namaste!