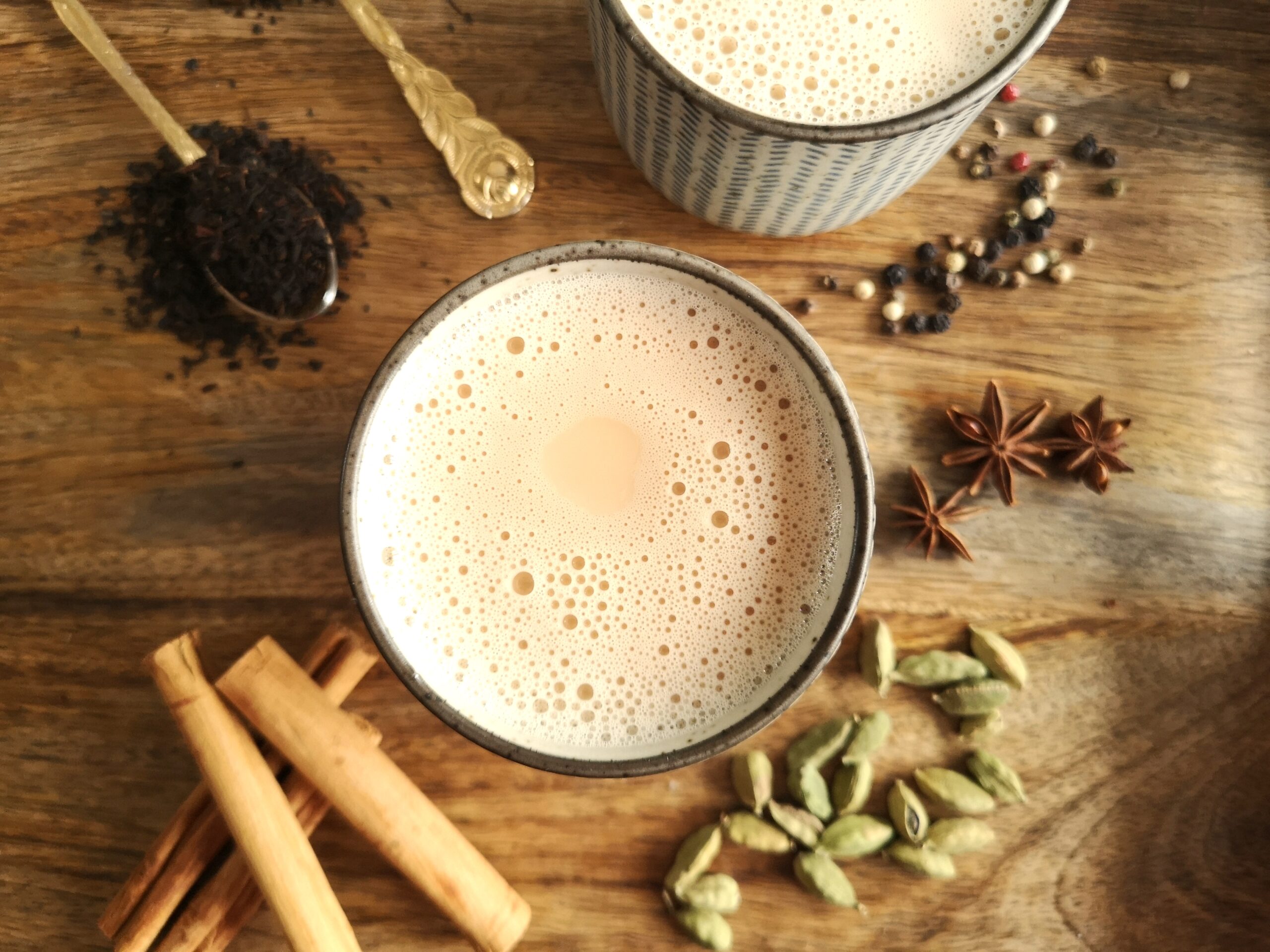 When it comes to food, I can fall head over heels for all kinds of ingredients, dishes or new food cultures! Love is everywhere! Some love stories, however, unfold gently, slowly, kind of low-key. They only strike you as real love, once you start missing them or cherishing a specific memory, which once arose and which you keep fondly stored. It so happens that I have developed a love story with Masala Chai. Not an at-first-sight-kind-of-love, but those hiding in plain sight.
Naturally, our love story started in romantic Ceylon – nowadays known as Sri Lanka. It was 2017, when I travelled there with my friend, and consciously tasted Masala Chai for the first time. As I said, it wasn't a stroke of lightning – but none the less, a relationship started to shape once I came to understand the philosophy behind this traditional South-Asian drink.
Masala Chai, meaning spiced or mixed tea, is essentially black tea blended with milk and fresh spices. It's a staple throughout South Asia, especially in India and Sri Lanka, and similar to curry, there are many varieties and versions of this delicious, warming, spicy tea. Usually the main spices in Masala Chai are cardamom, cinnamon, cloves, peppercorn and sometimes ginger, fennel or nutmeg.
As many of you know, I don't drink coffee (none, never, no varieties, not even a tiny bit), so over the years I've cultivated an appreciation for all teas, especially green and black tea. When I tried Sri Lankan Masala Chai, I was unusually fascinated by this tea-milk-combo and slowly embarked on the transformational journey of turning our acquaintance into a steadier relationship.
Travelling through Sri Lanka, we explored the epic highlands by taking a train from the small-town Ella to the bigger and more famous Kandy. The train carried a so-called observation saloon with large glass fronts at the rear, allowing us to take in all of the beautiful scenery around us. For a multitude of reasons, this was one of the most impressive journeys I ever made. A plethora of lush, green landscapes, hills and forests enveloped by a myriad of tea plantations – home to the famous Ceylon black tea. The beauty and intensity of the Sri Lankan highlands left me in awe and always comes back to me whenever I have a warm cup of black tea.
Before Sri Lanka, I wasn't aware of the allure of black tea, but ever since we visited the Ceylon Tea Museum, which I warmly recommend, I have a strong appreciation of its significance and health benefits. Black tea is an anti-oxidant which fights free radicals in our body, it is anticarcinogenic, good for our gut health and impresses with many other health benefits. Throughout our journey, I was able to try different variations of black tea and Masala Chai and it has made me appreciate and love this magical nature-given elixir.
Back home, I tried to recreate the Sri Lankan Chai version with cardamom, cinnamon and black tea brought along from Sri Lanka. I was determined to deepen our love story into a strong bond and not let it diminish into a shallow holiday romance.
When I ran out of the ingredients, I realized that there were some great store-bought options for Masala Chai – a convenient way to enjoy a good cup of Masala Chai, either with or without milk, and worth having at home for the occasional cup of Chai.
However, recently I started experimenting with fresh and whole spices to create a Masala Chai that came closer to the Sri Lankan version I enjoyed so much in 2017. It didn't take me long to realize that it's fairly easy and quick to make delicious spicy and sugar-free Masala Chai. So, without further ado, here comes my recipe, accompanied by pictures from my wonderful journey to Sri Lanka with my invitation to have a cup of tea with me.
Ingredients for 2 cups:
600 ml oat milk (or any other milk of your choice)
1 tsp. cloves
1 tsp. whole cardamom pods (crushed)
3 pieces of star anise
1 Ceylon cinnamon stick (crushed)
½ tsp. peppercorns
2 tsp. Ceylon black tea
A heap of love
Start by crushing the cardamom pods with the back of a teaspoon. This way, you release the aroma from the inside of the cardamom pods – a strong and intense flavor will unfold, which I very much enjoy. Then crush the cinnamon stick into small pieces, which also releases a beautiful aroma. Enjoying your new fragrance already?
Place the oat milk together with all the spices in a saucepan, leaving out the black tea, and turn on the heat to a high temperature. Shortly before the milk starts boiling, add the black tea. Let it boil for a minute, then turn off the heat and let it simmer for two more minutes.
Strain your concoction through a sieve and enjoy your freshly made, delicious and spicy Masala Chai.
Maybe you will develop a love story of your own? Let me know in the comments below.
Tipp: Since I use oat milk, which is naturally a bit sweet, I don't add any extra sweetener. If you, however, choose a different, less sweet milk, then I recommend you sweeten your tea according to your preference by adding honey or maple syrup.