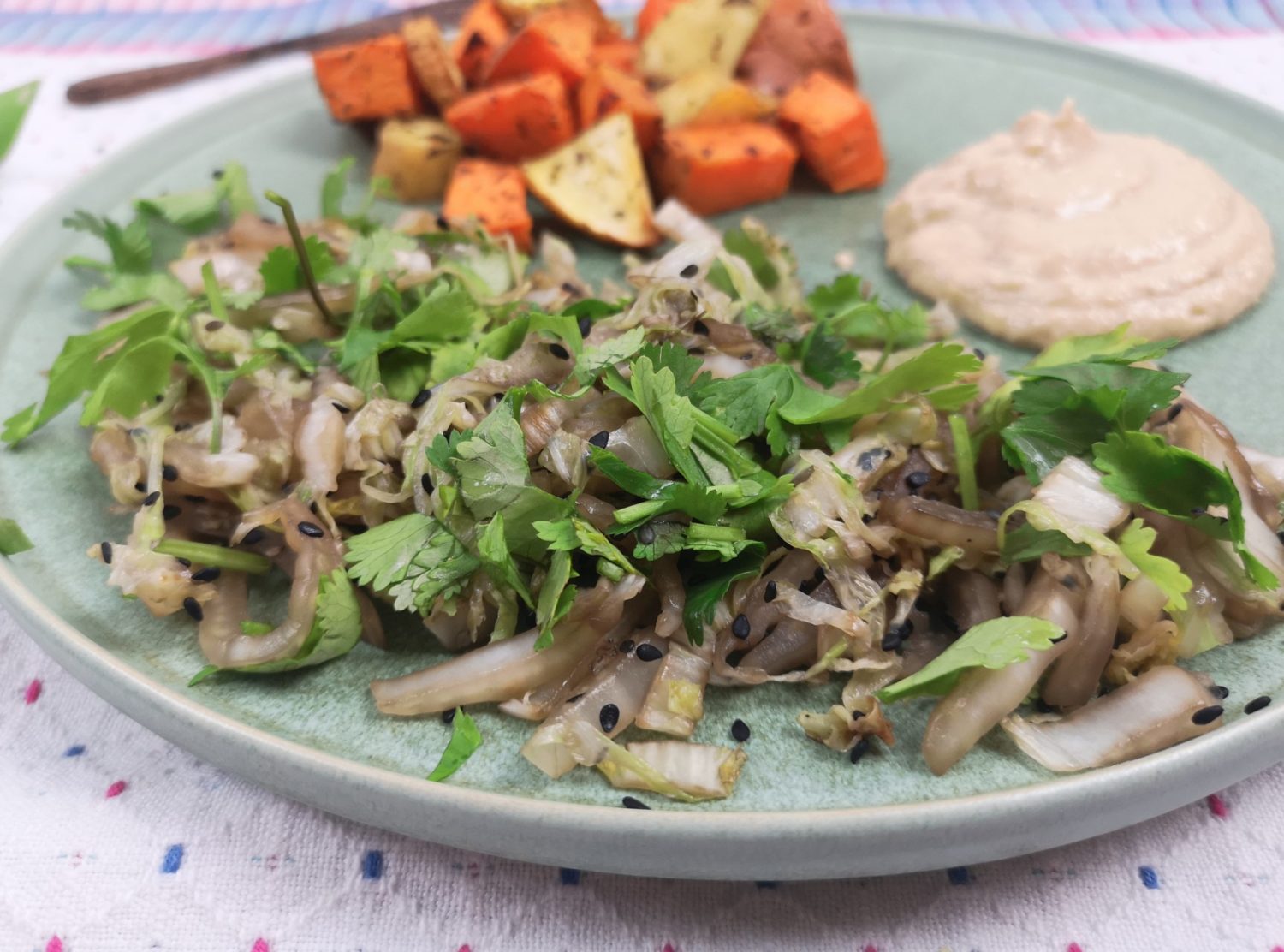 The recipe for this Chinese Cabbage Stir Fry was born using up wonderful leftovers in my fridge and totally unexpectedly blew my mind. In Germany, Chinese Cabbage is predominantly used to make salads and therefore, stir-frying it never really crossed my mind. Until one day, I wondered what to do with a leftover half Chinese cabbage in my fridge. Were there any other ways to turn this gorgeous vegetable into something beautiful other than salad? I started pondering – and this is how this delicious Chinese Cabbage Stir-Fry was created.
Before I dive into the recipe instructions, let me tell you briefly what kind of major health benefits this amazing Far Eastern vegetable has. Chinese Cabbage, also known as Napa Cabbage, is a great source of beta carotene, which we often associate with carrots and their bright color. Once consumed, beta carotene is transformed into vitamin A, which is great for our immune system. It is a free radical fighter, especially for the eye tissue, which is why carrots are always said to be good for your eyes. Beta carotene also promotes healthy skin and the mucous membranes. Furthermore, Chinese Cabbage contains soluble fiber and therefore increases good bacteria in your gut, which in turn helps us digest easier and supports our bowel functions. Another wonderful benefit of Chinese Cabbage is its ability to lower blood pressure due to its high content of calcium and potassium.
Let's get into the kitchen now and start stir-frying.
Ingredients:
1 medium-sized Chinese Cabbage
2 Tbsp olive oil or butter
3-4 Tbsp Tamari
2 Tbsp black sesame seeds
Fresh coriander
Salt and pepper
Instructions:
Cut the cabbage into small pieces. Heat the olive oil or butter in a pan and stir the cabbage for a few minutes. You can turn the heat a bit higher so the cabbage gets crispy. Just be careful to not overcook it. It can still remain a little firm. When the cabbage has turned softer, add the tamari. Be careful with its use, as too much can ruin your dish. The amount needed depends highly on how big your cabbage is, therefore I suggest adding one spoon at a time. In the end, add the black sesame seeds, salt and pepper and garnish your dish with fresh coriander. We had some roasted sweet potatoes and hummus on the side, but feel free to serve this dish with whatever you wish. Bon appetit!