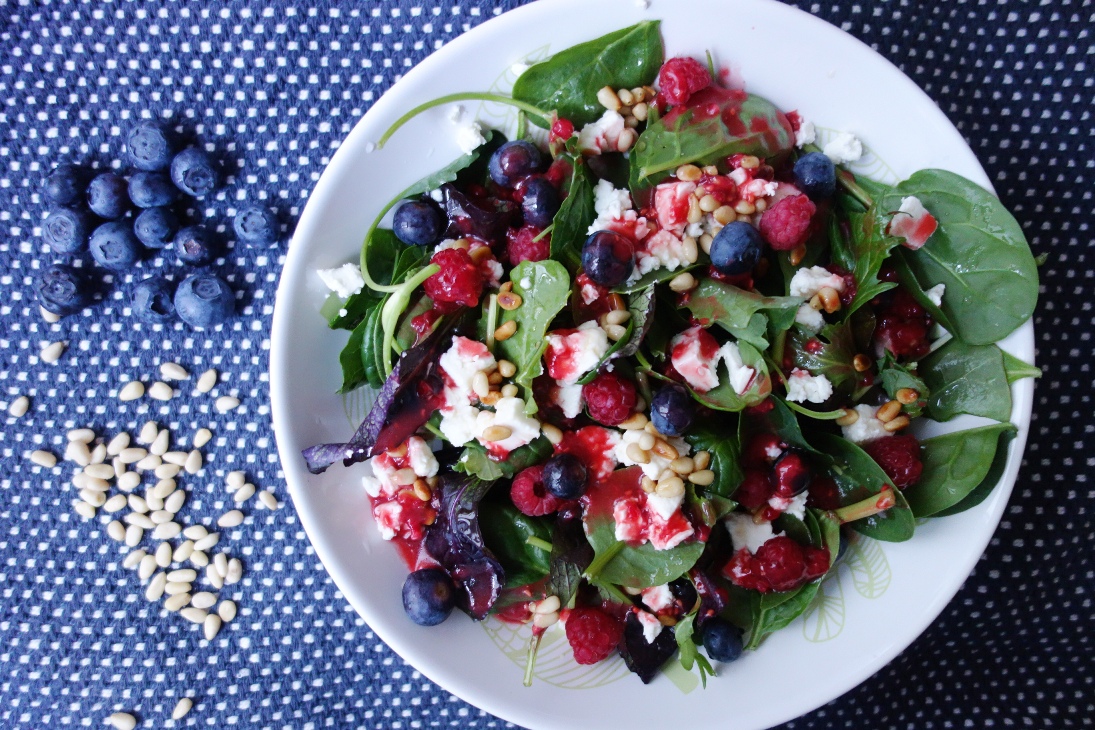 When I was a kid, I used to be very picky when it came to food. I only liked a limited number of foods and hardly ever tried unknown things. Whenever my parents combined foods that seemed unusual to me, I grimaced and kept to my plate, where there wouldn't be any surprises. Luckily, I left this narrow-minded and stubborn view behind and became an open-minded woman who is curious about exploring new food combinations without prejudice (well, most of the time).
I admit that I was a bit skeptical when making this wild herb salad with a friend of mine, but came to realize that it's probably one of the best I ever had. The combination of spicy wild herbs, fresh berries and savory feta cheese topped with sweet maple syrup and roasted pine nuts is a composition that I instantly fell in love with!
Wild edible plants are the most amazing way to feed your body valuable nutrients. They are sky-high in potassium, vitamins, omega-3-fatty acids, calcium, and folate to name just a few. Our ancestors used wild plants as medicinal remedies in wound healing or for digestive issues. Also, many of our beauty and care products stem from good old greens. If you want to forage wild herbs yourself, make sure that you recognize the different edible plants, as there are many toxic plants that we shouldn't consume. Look in areas with as little pesticides as possible and avoid popular paths and places where people walk their dogs. If you are the slightest bit unsure about foraging on your own, join a guided group with an expert or buy wild herbs or wild herb salads in organic supermarkets, farm shops or at the farmers market.
Sometimes, it's hard to get hold of wild herbs, but you can substitute them with other greens, such as rocket, lamb's lettuce and fresh herbs.
Ingredients for two servings:
two handful of wild herbs (for example dandelion, red mustard, clovers, ribwort, mizuna, landcress, tatsoi, red leaf beet, daisies, watercress, lamb's quarters or others)
50g raspberries
100g blueberries
100g feta cheese
3 Tbs. maple syrup
50g pine nuts
Ingredients for the dressing:
80g raspberries
2 Tbs. maple syrup
3 Tbs. olive oil
3 Tbs. balsamic vinegar
1 tsp. mustard
salt
pepper
Rinse and drain the wild herbs and place them on two plates. Crumble half of the feta cheese on the salad. Roast the pine nuts for a few minutes, then mix them with the maple syrup in a small bowl and pour over the feta cheese and salad. For the dressing, mash the raspberries with a fork and combine with maple syrup, olive oil, balsamic vinegar, mustard, salt and pepper. Stir well and pour over the salad. Finally, garnish the salad with blueberries and the remaining raspberries. Now you can enjoy the heavenly sweet 'n spicy taste of your wild herb salad.