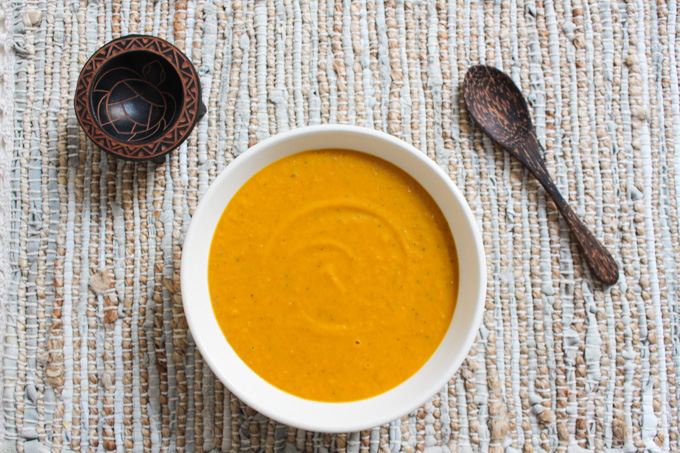 Creamy vegetable soups are one of my favorite meals when the colder seasons set in, dispelling my beloved summer months and making space for warm dishes and root veggies.
Did you know that sweet potatoes aren't actually potatoes and not at all related to regular potatoes? They belong to the same genetic branch as root vegetables and are only named after regular potatoes for their looks.
I especially love them in combination with carrots and coconut milk, so it's not the first time this perfect and simple autumn soup has contributed to a cozy day inside when the weather gets unbearably cold, grey and wet.
When I say the soup is simple to cook, I really mean it. The recipe is very easy to follow, as you only have to roast the veggies with some seasoning and blend them together with broth and coconut milk.
Before I dig deeper into the making of, I'd like to highlight why sweet potatoes are one of the healthiest root vegetables out there. Their bright orange color immediately reveals that sweet potatoes, just like carrots, contain a great amount of beta-carotene, a phytonutrient, which plays a major role in strengthening our immune system. And like their slimmer relatives, they are good for our eyesight due to their high amount of vitamin A. Speaking of vitamins, sweet potatoes also contain a lot of vitamin C, D and B6, the latter of which is a good friend of ours when it comes to fighting off heart diseases. As for the micronutrients, my favorite root veggies are high in magnesium, potassium and iron, thus delivering minerals that are important for blood cell production and metabolizing of protein (iron), healthy arteries and relaxed muscles (magnesium) as well as for regulating nerve signals (potassium).
Last, but not least, sweet potatoes belong to the category of starchy carbs, which might make some people shy away when trying to lose weight, but unlike regular potatoes, the sweet ones are much lower on the glycemic index, therefore they don't spike your blood sugar levels like other starchy foods. Given their high nutritional density, sweet potatoes are a great asset to your health and they are versatile enough to qualify for a variety of recipes, sweet and savory alike.
Ingredients for a medium sized pot of soup:
2 large sweet potatoes
2 large carrots
1 onion
4 Tbs. olive oil
1 tsp. dried thyme
1 tsp. dried oregano
1 tsp. salt
1 tsp. cumin powder
1 tsp. turmeric powder
500 ml vegetable broth
1 can (400 ml) organic coconut milk
Optional: roasted sage
Peel the onion, then cut all the vegetables into small chunks (the smaller, the quicker they will roast). If you don't buy organic produce, better peel the carrots and sweet potatoes as well, but I recommend to go organic and leave the skin on, since large amounts of nutrients can usually be found in the skin of vegetables and fruits
Place the veggies in a baking dish
Add the olive oil, salt and seasoning and combine well
Put the baking dish in the oven and bake for roughly 30 minutes at 220°C
When the veggies are done (they should be soft, but not mushy), place them in a pot and add the broth
Now use a blender to blend everything into a creamy soup
Add the coconut milk gradually as you keep on blending. You can create your desired degree of creaminess by adjusting the amount, which is why I recommend to add the coconut milk slowly. If it's still too thick for your taste, simply add a bit of water and some salt if necessary
The soup is now ready to be enjoyed and devoured. If you like, you can garnish your soup with some roasted sage by roasting the fresh leaves in a good amount of butter. Bon appetit!