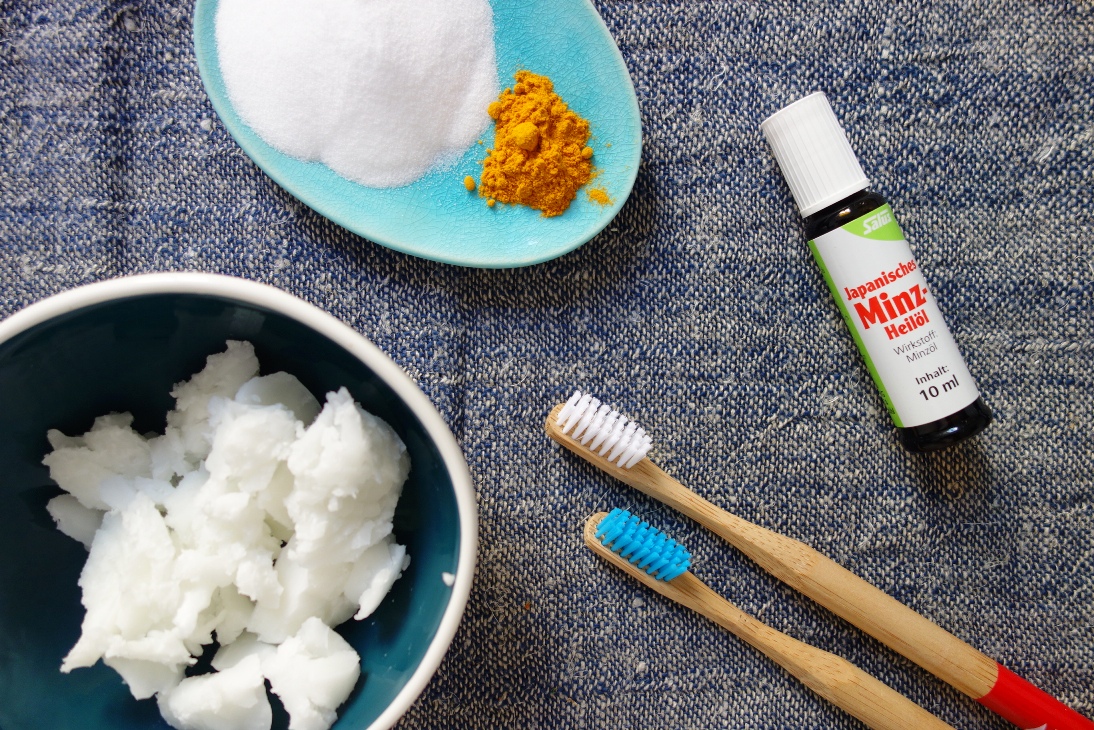 Eating healthy and being active are "the" cornerstones of a healthy lifestyle. We only have one body and we should treat it well in order to live a long and healthy life. But we are never perfect and there is always a little more we can do. I'm sure that many of you have already dismissed a lot of chemical laden products from your bathroom and replaced your old lotion, shampoo, shower gel and toothpaste with natural alternatives. If you want to take it one step further, I suggest making your own cosmetic and care products. You'll know for sure what's inside so you don't have to fear toxic ingredients such as phthalates, parabens or BHA anymore, some of which have been proven to be carcinogenic.
I'll start with a simple recipe for organic toothpaste that's cost-saving, environment-friendly and easy to make! It only has four ingredients, most of which you might already have at home. You will need coconut oil, baking soda (or baking powder), turmeric and essential peppermint oil. Due to its anitbacterial and antifungal properties coconut oil prevents us from tooth decay. Baking soda helps to clean your teeth and supports a healthy, more alcaline pH level. Turmeric is a great add-on if you wish to whiten your teeth naturally. Don't worry about its bright orange color and the fact that it colors your fingers when you use it in the kitchen – only your toothbrush will turn yellowish but your teeth will be spick and span! The peppermint oil renders a fresh breath, which we don't want to miss after going from store bought to homemade toothpaste. However healing, useful and tasty the ingredients of your homemade toothpaste are – it is still essential to actually brush your teeth properly no matter what's on top of your toothbrush. Use floss and a tongue brush in addition to maximize healthy teeth and a healthy oral flora.
For a small jar of natural toothpaste you will need:
5 Tbsp. coconut oil
2 Tbsp. baking soda or baking powder (natron)
1 tsp. turmeric
10 drops of essential peppermint oil
Heat the coconut oil over a water bath to liquify it. If it's already in liquid form you can skip this step. Mix all the ingredients together and let them set in a cooler place. Stir every now and then as the coconut oil will settle, which you want to avoid. In the end, it has to be a creamy homogenous paste. Once done, you can use a little spoon to put the paste on your toothbrush. It will feel unusual in the beginning, but don't worry, the coconut oil will quickly melt in your mouth and you will just as quickly get used to the new and natural way of brushing your teeth.
PS: I talked to my dentist about using natural toothpaste and he reassured me that there are no risks as long as there is no acidity involved, which could massively damage your teeth. If in doubt, talk to your dentist about the optimal way for you to brush your teeth – as with many things, there is no one-size-fits-all solution.