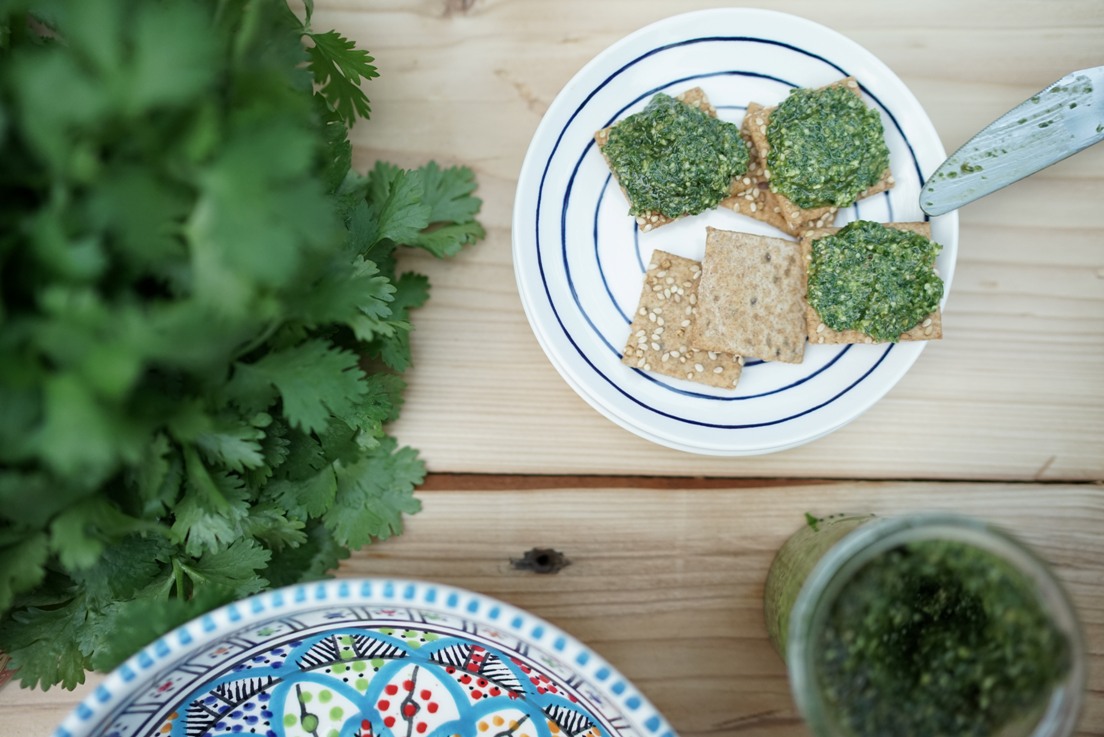 There are people who can't stand the taste of coriander and there are the ones, who absolutely love it! If you belong to the latter group, you definitely don't want to miss out on this delicious coriander pesto with walnuts and exquisite Gruyère cheese. Usually, I am a big fan of classic basil pesto with Parmesan cheese and pine nuts, but I couldn't get enough of the coriander pesto once I realized how tasty it is. You can easily swap some of the ingredients (for example by using a different oil or other nuts), but if you stick to the recipe, I guarantee a taste explosion that will blow your mind.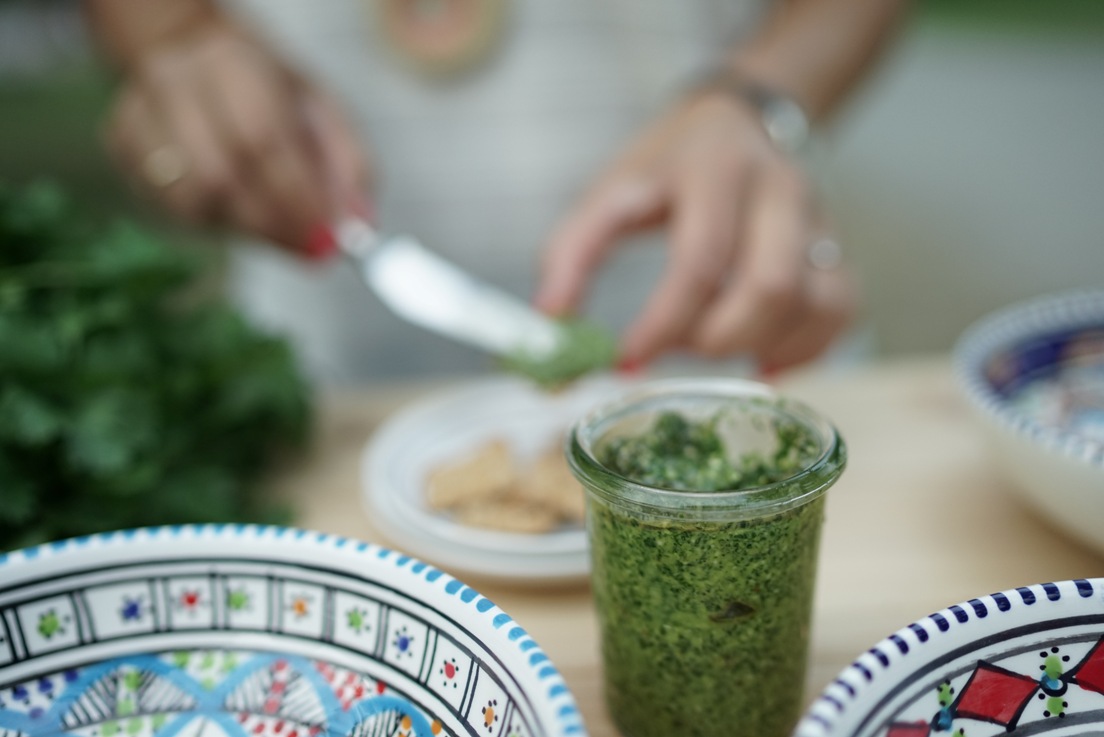 Coriander has plenty of health benefits, which most of us are, unfortunately, unaware of. These include anti-inflammatory properties, improving gut health and reducing blood pressure among many others. Containing a lot of vitamin A, C and K as well as minerals like folate, manganese, potassium and copper coriander is a great natural remedy when it comes to bone health, skin disorders, salmonella protection and digestion troubles. Therefore, we should take a bunch of this super healthy herb with us the next time we go grocery shopping. As a really versatile herb, you can use coriander in salads, stews, soups, spreads, pestos or simply to garnish any savory dish. Not only will your meal look nicer thanks to the natural beauty of herbs, but you'll also do your body a favor by improving your diet with a delicious green bonus.
Ingredients for a small jar of coriander pesto:
1 bunch of coriander
20 g walnuts
20 g Gruyère cheese
1 garlic clove
30 ml flaxseed oil
Salt
Pepper
Chili powder
Rinse the coriander under water, peel the garlic and place all ingredients in a food processor. Blend until the pesto reaches your preferred level of consistency and use a small spatula or spoon to scrape down everything from the sides of your food processor. Put the pesto in a sterilized glass jar and make sure to cover with some extra oil to prevent the pesto from going bad.
Enjoy with your favorite choice of pasta or bread. (I used organic quinoa crackers with spelt.)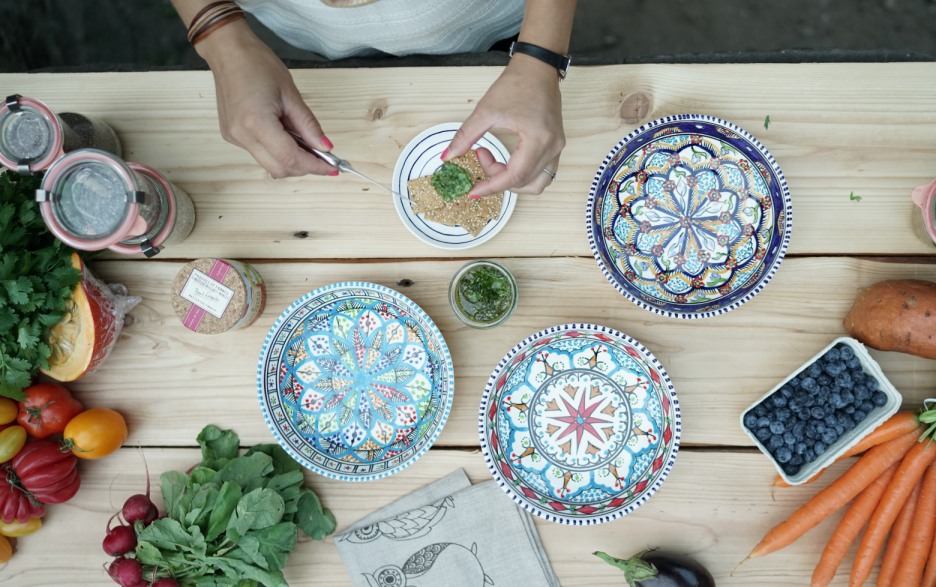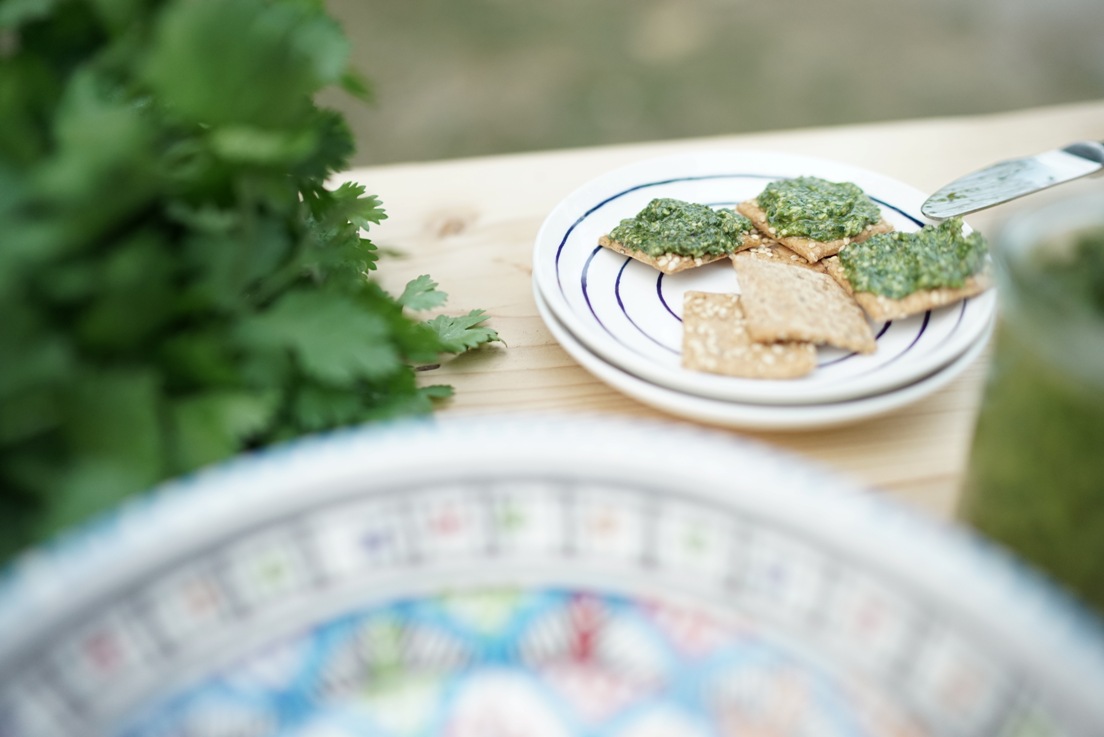 Merken
Merken
Merken
Merken
Merken
Merken
Merken
Merken